May 23, 2009
As I prepare some announcements and changes to make to my site for May 25th, I am also going to add the latest Darienisms to this page. Almost every day he does or says something that causes my Spirit to Soar and my heart to come close to bursting with the Love I feel for him. I can't possibly include them all, these are a few of the real gems.
As I was driving him to school one morning not long after my last Update when I posted this page for him, he said the following - with pauses between the sentences as he thinks about what he is saying and I reply to him.
"It's a beautiful Day. . . The sun is shining. . . . . The birds are singing. . . . . Grass is growing. . . . . Leaves are growing. . . . . Flowers are blooming. Blooming means they are all colorful. . . . . And if you smell them, they smell sweet."
He is a very fastidious little man - and will probably have some control issues when he gets older. Well actually, he has some control issues now. He likes things a certain way - his coat zipped up all the way not part way, the toilet paper on the roll the "right" way, etc. He doesn't like to get dirty - although of course he does - but doesn't like to get sand in his shoes and actually makes me think of the Princess and the pea the way he can detect even a grain of sand in his shoes.
He is also a very helpful man. He likes to help his grandma in the garden, or with cooking dinner, or whatever.
He used to be very literal - and it is very fascinating to watch his intelligence evolve. It used to be if someone said to him "See you later alligator" - he would say, "I am not an alligator. I'm a boy." But recently as I was picking him up from school one of the teachers said to him, "See you later alligator." - and someone else said, "After while crocodile." And I could see him thinking as we headed towards the door, then suddenly he turned around and said, "See you later ham sandwich."
That is what he says now at times when he or we are leaving somewhere, "See you later ham sandwich."
When he wants to make a point, or ask for something, or just communicate something he thinks is important, he will say, "I want to tell you something." And then he will share his thoughts or wants or whatever - but he is very good at getting me to stop and listen to him when he wants my attention.
(When he was younger he would actually take my face in his hands to make sure I was looking at him and listening when he had something important to communicate.)
He continues to love to spend time playing on the computer - and is always looking for new games. He will bring me something - a hotwheel car, or his box of legos or an ad that came in something - and tell me he wants to search on the computer. He knows if we type in the right words we can find what he wants - except that isn't always possible and he doesn't quite understand that yet, because he thinks the computer can find anything.
One of his favorite things to say lately when we find what we are looking for, or when I understand some point he has made with me, or something happens that he had talked about sometime earlier, is "That's what I'm talking about." Not sure if he got that one from TV or adapted it himself.
He does go into his king baby things some times - "I want to buy a toy now." - and will pout for awhile when I tell him we aren't buying any toys today. He will say when we go into a store, that he just wants to look at the toys, not buy anything. Then of course, he will want to buy once he starts looking.
He is a definite drama king at times - something that he gets from both his mother and grandmother.
(You can bet I got into trouble for this remark - being accused of being quite a drama king myself at times.;-)
And will cry when something happens to hurt his feelings - but it is almost a fake cry at times, like he thinks that is what is necessary when his feelings are hurt.
It is not very often that he gets out of control - and usually that is when he is tired. Every once in a while, he will throw a little tantrum where he stalks out of the room and slams the door, or throws something. Then I will give him a time out - which he really hates. Usually though he gets through the pouting or drama pretty quickly and moves forward.
I have mentioned in past writings about him, that he has a stubborn streak and a defiant side - but also a sense of humor about it at times. He came up with one a few weeks ago that blew me away - don't think it was something he got off of the TV. He had crawled up on my lap as I sat at the computer to try to talk me into letting him play on it, instead of me working on it. And he did what he likes to do, which is adopt a casual attitude. He slumped back against me and put his feet up on my desk. I said, "You be careful little man. If you kick my computer off the desk I will have to whip your butt." He jumped down, took a few steps away and took down his pants. Then he stuck his bare butt out at me and patted it, saying, "This butt? You going to whip this butt?" I was really flabbergasted by that one. Silly little man.
I have a song I sing to him, usually as we are going to school or coming home. The first part of it goes. "He is a handsome man, a beautiful man, a sweet and wonderful Darien man." The second part is, "He is a smart man. A fast running man. A high jumping man. A good climbing man. A good computer game playing man. A Magnificent Spiritual Being of a man full of Light and Love. And his name is . . . . . Darien Fuller."
Sometimes when I start singing it to him, he nods along agreeing with the things I am saying - and even sometimes closing his eyes and nodding like he does to music sometimes. Sometimes he will be sitting in the back, drinking his juice, and acting like he isn't listening. When he does that I will sometimes get to the part of the song where I say his name and act like I don't remember the name of the man I am singing about. He will chime right up to remind me of his name at those times.
He will often request me to sing the "Darien song" for him. He came up with a great one last week. He was acting like he wasn't paying attention, so when it came to the end of the song I sang, "He is a sweet and wonderful man - and his name is .......Robert.
He chimed right up to say that his name is Darien. And then he said (with the pauses in between as he thought about what he wanted to say, "I am the sweetest man. . . . I am a boy that loves the whole world. I love all the people. I love the kids. I love all the people and the pizza man."
He
is
the sweetest man. The other day we were playing in the back yard with one of his digger toys and dump trucks and our rabbit came up and nibbled on my jeans. I said something about the rabbit - and he said, "The rabbit was hugging you. . . . because he loves you."
There was a dead moth that was in the back yard and he insisted that I pick it up and put it in the garden because that it would be more "cozy."
Anyway, I guess everyone's kids say cute things, This little man just happens to be the apple of my eye. Such a channel of Joy and Light and Love.
Just one more and I will stop for now - although I do plan on adding to this page periodically, as kind of a record of him growing up. Hopefully some day when I am gone it will serve to remind him how very much I Love him and what a very special gift he is in my life.
On the way home from school earlier this week, there was a plane pulling an advertising banner in the distance. I didn't mention it to him because I wasn't sure if he could see it from his vantage point in his car seat. But then as it crossed in front of our path he did see it, and said, "What is that?" I told him it was a plane pulling a sign behind it - and he asked what it said. I told him it was too far away for me to read. Then he came up with one of those little nuggets that throw me off until I figure out what he is talking about. He said that he thought it was a talking lizard. I said, "Talking lizard." He said, "Ya, I saw it on an ad. There was a talking lizard on TV." And then I realized that he meant the Giecko Gecko (sp?) - and that we had seen banners with that ad behind planes some time ago. He is constantly entertaining me, this little sweet Darien man. He is such a blessing in my life. I Love him so dearly. ~ Robert 5:10 am May 23rd, 2009
---
August 20, 2009
On the way to school this morning, Darien all of a sudden says to me, "I love this world." And then he said, "I love this world because it is so clean." Not sure where that came from. I thought at first he said green - but then he corrected me and said clean. Then he said, "Is this world immaculate?" We decided that it wasn't that clean.
Immaculate (meaning really really clean in his definition) is one of the latest words he has learned at the gym. There is this young woman who works at the front desk of the gym that is just crazy about Darien. After she first interacted with him, she went into the kids club to find out what his name was because she was so taken by him.
That first time they talked, he asked her a lot of questions. She told him that he was very inquisitive. And then gave him an assignment to remember that word. The next time we saw her, he didn't remember it - but the following time he did. And he asked her for another word - and it became a tradition for him to ask her for a new word each time he say her. The second word she gave him was plethora. The third word was cornucopia. When she was explaining what cornucopia meant she said it means you have a lot of different things like apples, and oranges, and grapes. And he said, "like toys?"
So if you ask him his definition of plethora, it is a lot of things. Cornucopia is a lot of different things. Not a precise definition, but pretty good for a 4 year old. He actually uses plethora in sentences now pretty regularly. She has continued to give him words - so many now, that even though he usually runs up to her and says "I remember the words you told me." and then starts listing them - there are really too many for him to remember them all now (or her either for that matter.)
He is such a polite and sweet little man. He will go up to people and give them compliments. He will compliment his grandma on a new dress or whatever. One day as we were leaving school, there was a nanny there who picks up twins - and he went up to them and complimented them on what they were wearing.
A new store opened here a couple of months ago, a Smart & Final store. The first time we were in it, he kept wanting to find out where the toys were - and I kept telling him that I didn't think they had any toys. This was not a possibility he wanted to accept, so he told me that we needed to ask someone where the toys were. When we came close to someone who was stocking shelves, he called out to him, "Excuse me sir, where are the toys." Blew me away. I had never heard him use the term sir before - although I think I use it to him once in a while.
A couple of weeks later as I was putting him into his car seat, he said "Yes sir." and then got embarrassed thinking he shouldn't call me sir. I told him that it was okay to call me sir - that he could say "Yes sir Pappa sir." He made a face, and said, "That is just crazy!"
There was a little girl at his school that started coming up to me every time I picked him up and asking for a play date with him. Both of them asked me enough that I finally gave her a card with my phone number and told her to give it to her Mommy. She kept bugging me after that - and he said she wanted a map to our house. I did end up printing up a map, and her Dad did eventually call (I guess she was bugging him even more than me) - and they had a play date.
The point of the story however is something that happened during this period of time when I was getting bugged. As we were going in the side gate to our backyard one day, he found a dandelion - which he called a poofy head. He picked it up and made a wish before blowing on it. His wish was that he could have a play date with the little girl.
So, he thinks blowing on dandelions is a time to make wishes - and also at night before he goes to sleep. One day he told me that he wanted to go to the ferris - his word for the County Fair. He kind of has fair and ferris wheel combined. He hadn't been to the county fair in almost a year at that point, so it surprised me when he brought it up. And then he said that he would make a wish to go that night before he went to sleep when it was dark outside - and he did remember to do just that. I guess he had interpreted Susan telling him about saying a prayer at night as meaning that was a time to make wishes. The funny thing about it is, that when he brought it up, the County Fair had just started - and neither Susan or I realized it at that time. Perhaps he heard some other kid talking about it or something - but it seemed to come out of the blue.
Pappa and Darien on Fathers Day

With Grandma at breakfast in Cambria

Riding a pony at the County Fair

Pappa & Darien in Cambria
He has an amazing memory. He can remember plots to almost all the cartoons he sees - and he often brings things up out of the past. He will say, when I was 3 such and such happened - or something to that effect. He is a very smart little boy. How many 4 year olds do you know that have a vocabulary that includes plethora and immaculate?
One day when I picked him up from school he was very upset. He said that another little boy - that he had accidentally run into - had threatened to do mean things to him. On the way home, he was talking about it and said that he thought he shouldn't go to school any more. Another day he told me that if he kept going to school all the time he would end up being too tired and exhausted.
He is a really sweet man, and doesn't like confrontations. His teacher at the Montessori school was really concerned about him not being tough enough and independent enough for kindergarten - and was really relieved when I told her that we weren't sending him to kindergarten this year. He doesn't turn five until November, and we want him to be older and bigger before he starts regular schooling.
I have been concerned at times that maybe my role modeling and nurturing approach with him has caused him to not be "tough enough" in being able to stand up for himself. He tends to admit to being sad instead of getting angry - which isn't bad, but may not serve him to well out in the world. There was a sign that he is getting better at setting boundaries however in something he said to me last week. He has developed this habit of taking toys along with him to the kids club at the gym that I take him to. It is actually more like a strategy. It used to be that when he went into an environment where there were other kids - like a park or the kids club - he would go up to kids and ask them if they would play with him. Someplace along the line, he figured out that if he took some interesting toys along with him that the other kids would be drawn to him - and would be asking him if he would play with them. Pretty smart little bugger.;-) Anyway, last week he wanted to take one of his prized new lego toys with him - and I said something about it might not be a good idea because he might lose some of the little pieces or some other kid might take pieces of them. He told me, that no he wouldn't lose them - and that when someone had one of his toys and he wanted it back he just talks louder to them and they give it back to him. He sounded quite proud of himself for figuring out how to set firm boundaries.
Speaking of the legos, he now has several Star Wars sets - one of which included R2D2. For some reason he had a really hard time saying R2D2. He kept calling him RAD2. Finally I typed it in big letters for him so he could see it - and gradually he was able to remember that it was a 2 and not an A.
As I said in the last entries above, it is fascinating to watch his intelligence evolve. He knows now that it is a joke to say "See you later ham sandwich." instead of taking what people say so literally. One of the hot things for kids these days is Transformers - which I am not too crazy about personally. But the transformers fight the Decepticons - and one day I said something to him about the Decepticons would get us - and he just looked at me like I was really crazy and said, "Decepticons are not in our world. They are not real."
He also has started telling jokes. His favorite is "Why did the banana go to the doctor? Because he wasn't peeling very well."
He is amazingly straight forward with me - doesn't try to butter me up in order to get me to do something he wants. He will do a little low grade kind of manipulations (like telling me he just wants to look at the toys not buy any) - but he doesn't tell me he loves me to try to get something from me. In fact sometimes when he is doing is "I want to tell you something . . . " thing, and he is taking some time to try to tell me or ask me what he wants - I will say "You want to tell me what a wonderful Pappa I am." He just dismisses that out of hand, saying "I know you are a wonderful Pappa." and goes on to tell me what he wants to tell ask me.
So, when he does tell me that he loves me, it is so genuine and touching. One day a month or so ago, we were laying on the couch at bedtime as I am trying to get him to sleep, and all of a sudden he says, "Do you know what makes me happy?" And then he said it that playing with his legos made him happy - and listed a couple of other things - and then said it made him happy because he loved me so much. He said I was the best Pappa in the whole world. The best Pappa he had ever had.;-)
Earlier this week, at bedtime again, he stood up and said to me, "I love you so much. You do everything for me. You do hard things and easy things - but you do everything for me. Some of them are hard, like putting together my lego starship."
I do do everything for him - and it is really cool that he appreciates that.
He is real clear that I am not Dad - that I am Pappa - and will correct people that ask him that. His Dad was home on leave from Iraq in April and took him to Disneyland among other places.
Talking to him on the phone shortly after that he said to him, "Are you going to come and play at my house when you are done in Iraq?"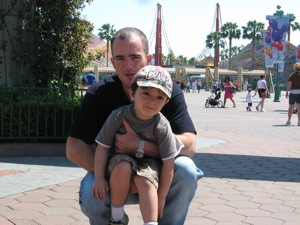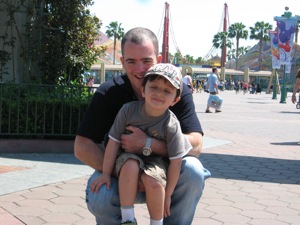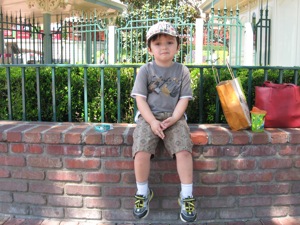 Disneyland with Mom and Dad was a long day for a little man.

Play is his life. He like to play. The legos are the latest things. They have these lego sets now that are for Star wars and something called Power Miners (who are in the business of harvesting crystals and have to fight off rock monsters that try to eat the crystals.) And it is quite a challenge for Pappa to put together some of these elaborate lego toys - especially with him helping.;-)
It is fascinating to eavesdrop on him while he plays in the other room - the elaborate stories he come up with.
Another thing that is so cool about him, is the way he sings and dances for his own enjoyment. There are times when he is showing off, but more often he tells me to go back in my room so he can dance and sing alone. He is such an exuberant, Joyous, sweet little boy. He does make my heart sing and my spirit soar.
One last thing. On the way home from someplace one day he was talking about wanting the clouds to go away so he can make a wish. I asked him what he meant, and he said that if there are lots of clouds then you could only get one wish. So, he wished the clouds would go away so he could see the moon and the stars and when they do then he gets lots of wishes. I ask him where he heard that, and he said, "I made it up."
My wish for him, is that he gets to stay in this environment where he is protected and loved and nurtured and cherished. And I pray that Susan and I can give him the tools he will need to deal with the kind of wounds that a sweet loving spirit like him will need to deal with a world full of wounded souls and toys that focus on conflict and promote violence. We have tried to protect him as much as possible, but can't raise him in a vacuum. We had never gotten him any toys with guns and such, but relatives gave him a Transformer last Christmas - and that kind of opened the door to light sabers and rockets and such.
And we can't take away the wounds he has already experienced because of the time and place and circumstances that his Soul chose to incarnate in this lifetime.
Of course, part of the Divine Plan that is unfolding perfectly, was the Soul contract between his Soul and my Soul that we would meet in this lifetime at the time and place that we did in order to learn about Love together. He is a precious and wonderful blessing in my life and I thank the Goddess for the opportunity to be intimately involved with this beautiful spirit that is Darien. ~ Robert 8/20/09
---
Anyone who would like to get the more frequent updates can join the Yahoo group by clicking this button.


---