Welcome to
Joy2MeU
The Web Site of Spiritual Teacher, codependency counselor, author,
Robert Burney
and Joy to You & Me Enterprises

Robert is the author of the Joyously inspirational book
Codependence:
The Dance of Wounded Souls.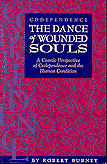 For ordering info click here
Site index page
Mobile friendly siteindex page
November 1, 2023: The latest additions and announcements about Robert's web sites and appearances are on the New & News Page

"It is necessary to own and honor the child who we were in order to Love the person we are. And the only way to do that is to own that child's experiences, honor that child's feelings, and release the emotional grief energy that we are still carrying around."
"Codependence is a very vicious and powerful form of Delayed Stress Syndrome. The trauma of feeling like we were not safe in our own homes makes it very difficult to feel like we are safe anywhere. Feeling like we were not lovable to our own parents makes it very difficult to believe that anyone can Love us."
Spiritual Teacher and Codependency Therapist Robert Burney, whose work has been compared to John Bradshaw's "except much more spiritual" and described as "taking inner child healing to a new level," has developed a unique approach to emotional healing that is the next level of recovery from codependency so many people have been seeking. He has pioneered an inner child healing paradigm that offers a powerful, life changing formula for integrating Love, Spiritual Truth, and intellectual knowledge of healthy behavior into one's emotional experience of life - a blueprint for individuals to transform their core relationship with self and life.
Robert, whose process is firmly grounded on twelve step recovery principles and emotional energy release / grief process therapy, specializes in teaching individuals how to become empowered to have internal boundaries so they can learn to relax and enjoy life in the moment while healing. It is the unique approach and application of the concept of internal boundaries, coupled with a Loving Spiritual belief system, that make the work so innovative and effective.
His personal belief is that we are Spiritual Beings having a human experience that is unfolding perfectly from a Cosmic perspective - with no accidents, coincidences, or mistakes. He considers Spirituality to be a word that describes one's relationship with life - and anyone, regardless of religious belief or lack of it (who is not completely closed minded), can apply the approach he shares on this web site and in his book, to help them transform their experience of life into an easier, more Loving and enjoyable journey.
In his book
Codependence: The Dance of Wounded Souls
"A Cosmic Perspective on Codependence and the Human Condition"
he postulates that Codependence (i.e. outer or external dependence) is The Human Condition - and that we have now entered a new Age of Healing and Joy in which it is possible to heal the planet through healing our relationships with self. He combines Twelve Step Recovery Principles, Metaphysical Truth, and Native American Spirituality with quantum physics and molecular biology in presenting his belief that we are all connected, we are all extensions of the Divine, and that ultimately Love is our True essence.
"We are transcendent Spiritual Beings who are part of the ONENESS that is the God-Force. We always have been and always will be. We are perfect in our Spiritual Essence. We are perfectly where we are supposed to be on our Spiritual Path. And from a human perspective we will never be able to do "human" perfectly - which is perfect.
We have been trying to do human perfect according to a false belief system in order to get Spiritual. It does not work. It's dysfunctional."
Telephone Counseling with Robert - an Empowering & Life Changing experience
MY SOBRIETY DATE: JANUARY 3RD, 1984
June 3rd, 1986 is the day I made a conscious commitment to codependency recovery: The Story of "Joy to You & Me"


Joy to You & Me / Joy2MeU / Joy2MeU2 Update Newsletter February 2019

"I just read your wonderful book, thank you for writing it. I have been a spiritual teacher since childhood, however, your book let me organize my thoughts a new way, a new perspective. I now have a much deeper understanding and am still learning from it. Dance, is one of the truly transformational works of our time."

"When I found your book, I found myself."

"I am a 52 year old psychotherapist and have struggled with codependency all my life. Up until tonight I have been disappointed in the literature and treatment of codependency. Your work is brilliant! I can't find words to express my appreciation with the depth I am feeling."

"I read thru much of your website and I am very inspired by it. I have been feeling that something is missing from the 12-step CoDA meetings and now I know it is true."

"Your work is brilliant and from what I've read on your website I am just utterly blown away by this material. It's like finally someone has put this mess of codependance into perspective so it can be healed!"

"Your writing is more insightful and instructive for change than Bradshaw and Melody Beattie of codependence no more. Pia Melody's pretty good but you're more broad thinking in concepts and more compassionate too."

"I truly believe that I have made more progress on a personal level in the few weeks I have had Robert's book and tape than in the preceding eight plus years when I first found out what codependency was. THANK YOU"


"I find it very exciting that you have brought the whole definition of codependence to this spiritual level, where I can much more relate to it's truth."

"Your message has forever changed my path in this lifetime. Thank you so much for sharing your perceptions and experiences through your book, and your website. You are a guide and a healer, I will be forever grateful for having connected and crossed paths with you and your work."

"Robert, you are a metaphysical Stephen Hawking. Thank you."


Phone Counseling Testimonials