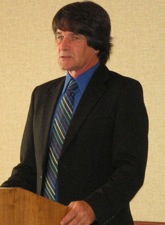 Robert Burney, author of Codependence: The Dance of Wounded Souls (which has been called "one of the truly transformational works of our time"), is a codependency counselor, inner child healing pioneer, and Spiritual Teacher. He has developed a pioneering approach to codependency recovery - an inner child healing paradigm - that offers a powerful, life changing formula for integrating Love, Spiritual Truth, and intellectual knowledge of healthy behavior into one's emotional experience of life - a blueprint for individuals to transform their core relationship with self and life.

Robert's work has been compared to John Bradshaw's "except much more spiritual" and described as "taking inner child healing to a new level." He teaches people how to relax and enjoy life in the moment, while healing and developing a more Loving relationship with self - which them makes it possible to develop healthier relationships with others.




Robert Burney's Day long Intensive Training Workshop

"What is so valuable, what I believe is unique, about the approach to inner child healing that I have been guided to develop and refine, is that it provides a formula for integrating Spiritual Truth and intellectual knowledge of healthy behavior into one's emotional relationship with life.

It does not matter how much Spiritual Truth, how many mystical experiences of oneness, how in tune with Love, you can feel in certain moments - if you cannot integrate it into your life in a way which changes your emotional experience of life on a moment to moment, day to day basis. You can go to therapy for many years, read all the Spiritual and self help books, go to workshops and seminars and lectures - compile encyclopedic intellectual knowledge of what healthy behavior is - and still be reacting to old wounds in the relationships that mean the most to you.

The missing ingredient for so many people who have been seeking for many years, is how to integrate what you know into how you feel about your experience life. That is what I teach people - because it is what I have spent many years learning." - Co-Creation: Owning your Power to Manifest Love

Some quotes from Testimonials for Intensive Training Day:
"My life has been much better since I went to your seminar. Thank you."
"I found this session to be very useful in seeing the what & the why of "my" reality. The understanding I have gained gives me hope in my future. This has been the greatest gift I have ever given myself."
"Robert's spiritual & inner childwork Intensive Training Day has been nothing short of magical!! What I learned will help me build a strong and realistic foundation of how to love myself unconditionally! Robert's work is a gift which keeps on giving the more and more I practice it!"
"You work is more brilliant in person than I could have imagined."
"Thank you, Robert. I have already felt a huge sense of peace . You have set something in motion in me. I can't tell you how good it feels."
"This training is not only a clear nuts and bolts approach to recovery, but likely a key insight into the next revolutionary model of recovery. I feel as if I have a much clearer map."
"I believe you've assembled all of the major pieces of "the puzzle of Recovery" with your work (in a way that has never been done before)."
"This day has been transformational for me - it made me want to further my personal work. Robert presents his material in a straight forward way - it simplifies the complicated."
"Robert carries an amazing message of healing for the entire human race. Anyone who is ready to face their issues would benefit tremendously from this simple recipe. Thank you Robert! You made a huge impact on my recovery & my concept of a Higher Power."

"Robert is a very , compassionate intuitive, and intelligent soul who shares his insights to you in such a clear, fun, and poignant way that your life will be forever changed."

"Robert Burney's training day was so inspirational and enlightening. He was loving and warm and presented profound life changing material in a very not intimidating way. Magical!"