8-16-18
- I noticed that this page showed up in a search today so decided I had better put a notice on this page that this occurred 4 years ago. The only workshops I have scheduled at this time are in Gilroy California - which is near the Bay Area. Here is page with up to date info on my
Life Changing Workshop
. I recently started a new website
Joy2MeU2.com
that is mobile friendly for anyone who is on a phone. We are hopefully going to be offering my workshop online within the next month or so - on another of my sites
RobertBurneyLive.com
.


Joy to You & Me Presents a Life Changing Workshop in Europe:
A Day Long Intensive Training in Robert Burney's
Spiritual Integration Formula for Inner Healing in Spain
Robert Burney is returning to Ibiza March 1st and 2nd 2008
March 10, 2008 The workshops on Ibiza went wonderfully. We had 30 some people each day - and of course, closed both sessions with the hokey pokey. (See below.;-) Many people asked that I return next year - more will be revealed about if that will happen. Since most of the people only spoke Spanish, I didn't hand out any feedback forms - but here are a couple of people's comments that I got in e-mails a day or two later. - RB

"Hy robert, i'm _____ ,i've been in your workshop in ibiza and i'm writing you to express my thankfull for your teachings...you ve awakaned in me something i had inside and i'm starting to rediscover through your words......THANK YOUUUUUUUUUUUUUUU!!!!!!!!! "

"Today, when I comeback home after your workshop about boundries in Ibiza ,and I met may 3 kids , they were asking me about how I spend my day ,and I only told them, -- I was learning from a very good man, -- They asked me ¿so...? It,s something so simple as that , but It, s so great for me, to see , to feel that beatiful soul .. You taught us the gratitude to the life, to the universe, and for that I send you my thakfullness."
"Plans are moving forward at this time, for another trip to Ibiza. It looks possible that I will be doing one of my day long Intensives, plus a day long workshop on boundaries for the people that attended the 2 day retreat I did in Ibiza a little over 2 years ago. That will probably happen in early March." - Joy2MeU Update August 2007
I am officially announcing today, October 17, 2007, that I will be appearing on Ibiza on March 1st and 2nd 2008. I will be offering my Day of Intensive Spiritual Integration Training on Saturday March 1st and a follow up workshop on boundaries for people who attended the retreat I did in April 2005 on Sunday March 2nd. The boundaries workshop on Sunday will be open to people who attended in 2005 plus anyone who attends the Saturday Intensive Workshop in 2008.
A Day Long Intensive Training
with Spiritual Teacher, inner child healing pioneer
Robert Burney
author of the Joyously Inspirational Spiritual Book: Codependence:
The Dance of Wounded Souls

"I have been telling anyone who will listen about you and your work because it is literally saving my life and I feel it could help millions get well."

"I have been one of the lucky people to read your sensational book! . . . This book is truly a masterpiece. . . Wouldn't it be great if every living being on the planet read this book? Global transformation!"

For information about the Day Long Intensive Training in Robert Burney's Spiritual Integration Formula for Inner Healing Workshop go to: Intensive Training Day

"It was a blessing, a pleasure, and a privilege for me to attend Robert's first Day Long Intensive Training in San Francisco. Robert is a pioneer. . . . I believe he's been given the gift of assembling some very important Truths into one practical spiritual message that addresses the human condition. Anyone, regardless of any particular belief system, who considers his message will walk away better equipped to Live."

For more comments from participant go toTestimonials for the Intensive page
The workshops will take place in the Jardin de Luz (The Garden of Light), a delightful custom built center for self development, situated in the mountains in the northern part of the island, about twenty minutes drive from the ocean - a retreat in the true meaning of the word. The sessions will last from 9 AM to 6 PM - with meals and refreshments included.


The workshops are being sponsored by Dr. Dolores (Lola) Hernandez de Luz

Each Workshop is priced at 100 Euros
(When payment arrangements are made with Dr. Hernandez at the workshop. The price will be 105 Euros to cover processing costs for those who use the secure credit card or PayPal buttons below.)

Attendance is limited to 50 people.

The retreat will feature simultaneous Spanish translation.

To register contact:

Lola Hernandez
PO Box 64
Santa Gerturdis
Ibiza 07184
phone (34) 971 197 197
e-mail: mdhernandez@aena.es

For information about local accommodations or other aspects of local interest in regard to the retreat on Ibiza you can also contact Dr. Hernandez.

"The two day retreat on the Spanish island of Ibiza was a wonderful experience. Forty three people in all came to it. The majority of them didn't speak English, so I got the opportunity to have a simultaneous translation experience for the first time. Also the chance to teach a bunch of Spanish people how to do the Hokey Pokey.;-)
"A good thing for this child to do is skip. I find it is very hard to be serious and skip at the same time. Being silly is very good for us. One of the closing prayers for my inner child healing/grief groups is to do the "Hokey Pokey" - which is a silly dance that many American children learned when little. (I don't know if they do the Hokey Pokey in other parts of the world - maybe some of you can let me know. The point is to do something silly and pointless that helps us to not take ourselves so seriously.)" - The Inner Children that need Boundaries
I end my workshops with the hokey pokey these days." Joy2MeU Update June 2005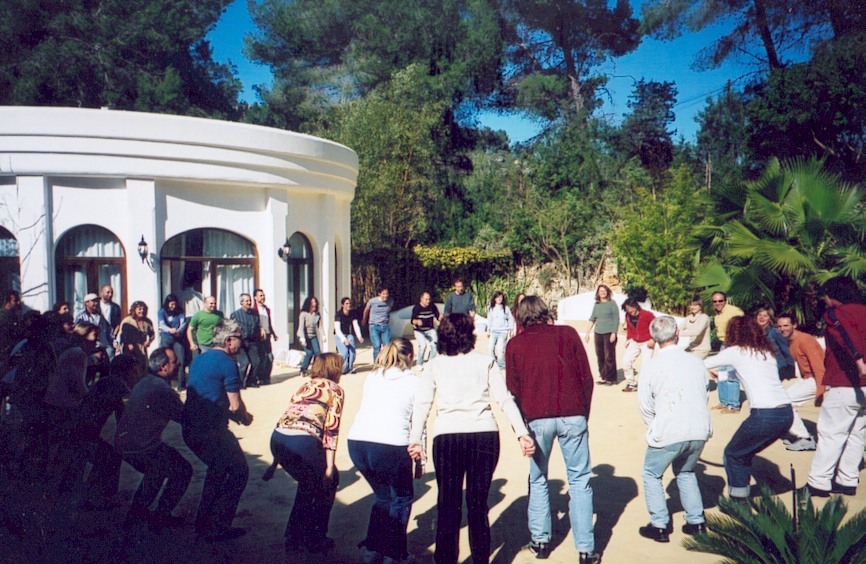 Here is a picture taken at the end of the retreat in April 2005 - doing the Hokey Pokey in Ibiza.
Robert Burney's Spiritual Integration Formula for Inner Healing Workshop Intensive Training Day
Home
Site Index
Codependence Pages Index
Inner Child Healing Pages Index
Spiritual Belief System Pages Index
Metaphysical Pages Index
Alcoholism Pages Index
Miscellaneous Topics Pages Index
Romantic Relationships Pages Index
Information Pages Index
---

Codependence: The Dance of Wounded Souls by Robert Burney is copyright 1995. Material on Joy2MeU web site (except where otherwise noted) is copyright 1996, 1997, 1998, 1999, 2000, 2001, 2002, 2003, 2004 , 2005, 2006, 2007, & 2008 by Robert Burney PO Box 235401 Encinitas CA 92023