Welcome
to a page of
Joy2MeU
The Web Site of Spiritual Teacher, codependence counselor, grief therapist, author, Robert Burney and Joy to You & Me Enterprises

Go to Home Page
Site index page

Robert is the author of the Joyously inspirational book
Codependence:
The Dance of Wounded Souls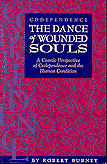 book ordering info
Dear Robert,

My comments at the end of the intensive last Saturday were woefully inadequate -- of course, I learned that that was the perfect unfolding according to the Plan -- however, as I have processed more of what I received, I wanted to tell you the following, and feel free to use any of the below on your website, of course, leaving out my name and changing details which could be recognized by my family, and I authorize you to edit, delete, however you feel appropriate:

Robert,

My heart is full. You gave me PRICELESS gifts of UNDERSTANDING in your intensive training.

I have been in therapy on and off for approximately 40 years. The refrain was continuing: "You don't like yourself." And my response would always be, "Yes, I know this. But how do I BEGIN to like myself?" There were no answers, just continued dialogue, talking, talking, talking, and I never got better. Of course, I blamed myself. As the years passed, the problems continued. I began to cross-addict: drinking, smoking, unhealthy relationships, inappropriate acting out, humiliating myself, thus further hating myself. I would pick myself up, dust myself off, and try with sheer willpower to "do better, be stronger, be GOOD."

Nothing worked. I ended up a 54-year-old with crappy self-esteem, poor social skills, under-educated and under-employed, with dangerous and sometimes life-threatening methods for periodically releasing my bottled-up emotions. Last year I contemplated suicide when I found myself living alone for the first time in 25 years. I isolated, beat myself up, and seldom left the house, except to work.

Robert, you gave me TOOLS -- at last!!! Concrete, no-nonsense, detailed, direct tools to use to release the emotions that I had kept bottled up since the age of 3 years old. At that time, my inner child decided that I could make peace out of the chaos in my family by being good, by NOT being a child, and by being quiet and shy. Of course, this did not work, and erupted in my teen years into eruptions of rage in my family and falling into relationships with inappropriate men. I was helpless to resist them, craving the LOVE I thought I was finally receiving.

Oh my gosh! I now don't have to wonder when I ask myself, HOW do I release my anger, WHAT do I do, exactly WHEN do I do it, and how often. I have never before experienced such clarity! Robert, right down to your detailed descriptions of using a plastic bat, the sounds to emit from your throat, THESE ARE CONCRETE TOOLS I HAD BEEN LOOKING FOR ALL MY LIFE!

Secondly, I had told myself for years (sometimes subconsciously) that my parents just hated me and that's why they treated me the way they did. Of course, there had to be something wrong with me: chemical imbalance, depression. A therapist last year told me I just had to get used to the fact that I was "mentally ill." Wow. That was a pill to swallow! How does a mentally ill person, who has been successful in their careers, successfully raised 2 children alone, is a homeowner, and a loved member of a family, think of themselves? I'll tell you: With much confusion, chaos, inner voices, and I began to think of myself as just a "tortured being." It was pretty hopeless.

Less than 24 hours after I left your intensive training, I believe I was actually able to forgive my parents!!!!!!!!!!!!!!!!!!!!!!!! This is monumental, as I have been trying to do this for 40 years.

It was so easy: I finally, finally, finally, ONLY BECAUSE OF THE THINGS YOU SAID, IN THE COGENT, HONEST AND TRUE WAY YOU SAID THEM, realized that my dad does not hate me!! He had no idea he was making me feel the way he did. He was dealing with his OWN issues. He was an honorable man, taught to do the honorable thing. His anger released at me, and he never, ever intended to cause the harm that I chose to make a permanent part of my being. He had no idea that he was lacking in the "parent" department or the "loving" department. His plate was so full at that time trying to make a living, please a wife and do all that he was "supposed" to do, he merely ERUPTED with me as the nearest victim, with the emotions that you taught me had been denied him HIS WHOLE LIFE. I was able to feel compassion for this man and sorrow for his own repression.

I considered, very seriously, talking to my father about some of these things the day after the intensive. My pitch would be brilliant and non-threatening. It would elucidate and heal years of pain between us. As I sat next to him in church, the tears spilling down my face, he characteristically did not notice my emotional state. However, when the part of the Mass came, the kiss of peace, he reached over and hugged and told me he loved me, as he has done so many times before, but THIS TIME, THIS TIME I believed it, as I am now know I am a wonderful person in this world, and he has been trying to make up for the bad times all his life. He just does not have the tools. It was enough. It was perfect. Words would only spoil it.

Well, I'm sorry to have written a book here, but I wanted to thank you so very much, Robert, for the wonderful gifts you gave me, which I know I will keep on receiving. I wish you love and success in your own life, as you so deserve it, and I hope to see you again soon, and/or talk with you via telephone counseling in the near future.

Zip-a-dee-do-dah, Robert . . . you are awesome.

________
P.S. I shared with a lifetime friend who has her Masters in Family Therapy, and she said the same thing, "You have been asking for these answers for 40 years, and you finally, finally got them!" We both cried. Thanks again.

Click here for the dates of upcoming Intensive Training Day