Welcome
to a page of
Joy2MeU
The Web Site of Spiritual Teacher, codependence counselor, grief therapist, author, Robert Burney and Joy to You & Me Enterprises

Go to Home Page
Site index page

Robert is the author of the Joyously inspirational book
Codependence:
The Dance of Wounded Souls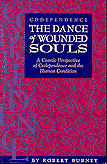 Back on October 7th 1999 I posted the following notice on the home page of both of my web sites.
I have gotten a great many inquiries lately - both by e-mail and by phone - from people around the country looking for therapists / counselors who do inner child grief work/codependence recovery counseling and therapy. So, I have decided to throw it out to you all out there: if you know of someone you have had experience with and trust, who is a therapist / counselor that facilitates the emotional energy release/grief work, inner child type of codependence recovery work that I describe (or you are a therapist who resonates with my work) and hopefully also is supportive of Spiritual principles that my web page and book advocate, could you send me contact information so that I can set up a web page for people who are looking for help in any part of the country (or other countries for that matter.) We will see if there is sufficient response to make such a page viable.

Please e-mail the information to Robert@Joy2MeU.com More Will Be Revealed.
As I have mentioned in several of my communications to my e-mail list, I have been a little disappointed in the response. I had set a target for myself of at least 25 referrals before I posted the page. As I am getting ready to post this page (January 31, 2000), almost 4 months later, there are 22 - if one counts two 800 numbers and a treatment center. Of course, right now - as I am trying to finish my site design project which I started working on before Christmas - I am kind of glad there aren't too many. ;-)

There is not much consistency in the information presented. Some people wrote a great deal, while others just included basic information. For some there are contact phone numbers, for others e-mail addresses - and one only gives a name and town. I guess the ideal would be to have a form for folks to fill out that would outline the type of info wanted. But I never intended to go into the referral business, I was just responding to a need that presented itself.

It is about a 50-50 split between therapists who contacted me and people who referred a therapist they had worked with. Interestingly, out of 19 individual practitioners, two have offices at the same address in Virginia. What are the odds of that happening?

I do not know these people counseling skills first hand and am not making a personal recommendation - just collecting and making available the information for you to explore.

The Treatment Center is in Jamaica and sounds wonderful. (I asked if they had any job openings.)

At the very bottom of the page, in the 800 numbers section, is a banner for 1-800-Therapists - which is a therapist referral service that will pay me $.05 for every click through to their web site. The way it works is that, after checking out the information on their web page you can you call their 800 number and one of their trained people helps you to figure out what you are looking for, how much you can pay, etc. - and gives you referrals to mental health professionals in your local area. As I have mentioned in a recent update announcement (Update11-9) I haven't done banners since early in my web site experience. I decided to do this one because the specialized nature of this page seemed to be a good fit with the specialized character of this organization and banner. I also was impressed with the perspective from which the information is presented on the web site. It is presented from a perspective of empowering the client. They have pages of good information on how to choose a therapist, what kinds of things to ask in the first interview, what to look for, etc.

Too often, when we start counseling or therapy, we feel it is somehow shameful, or weak, because of our cultural programming - and come kind of hat in hand, as it were. We come to the professional from a place of hoping they won't tell us we are the sickest person they have ever met, and there is nothing they can do for us - or at least that was what I was sure was going to happen. It is important to remember that the person going to the therapist is the employer. You are the one doing the job interview with the power to decide who gets the job. You are the one that is going to be paying for services and you have a right to ask questions and to expect to be treated with respect and dignity.

The standards that this 1-800-Therapists uses to compile their referrals - and the weight they assign to some of questions - are not necessarily the same standards I would use personally. Their approach is from a traditional mental health perspective - they probably do not give a lot of weight to Spirituality for instance. (Spirituality, of course, being a very hard quality to quantify.) I do believe however, that your chances of getting referred to someone who can really help you, are probably better with this service that with, for instance, a New Age type listing that might have standards that sound good but are hard to verify.

The most important thing which I would say, is let your Spirit guide you. Talk to a person, meet with them, and see how you feel about them. Do they feel like someone you can trust? Does what they have to say resonate? Do you feel like they are really hearing you? Whatever experience you have will be an opportunity for growth. Maybe it is important to go see someone, so that afterwards you can say "No, that person isn't right for me." You have choices. You have the right to change your mind. Going to see a counselor or therapist is not a commitment to them - it is a commitment to you. - Robert January 2000