Welcome
to a page of
Joy2MeU
The Web Site of Spiritual Teacher, codependence counselor, grief therapist, author, Robert Burney and Joy to You & Me Enterprises

Go to Home Page
Site index page

Robert is the author of the Joyously inspirational book
Codependence:
The Dance of Wounded Souls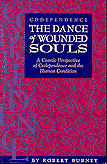 book ordering info
This ia an article that is part of a series of articles which were focused upon issues involving gender, sexuality, romantic relationships, and directly related topics. This article Codependent Defenses - Part 3 My Gatekeeper was originally published online October 31, 2004 on Robert's Inner Child / Codependency Recovery page on the Suite101.com Directory - which he wrote monthly column for from March 1999 until October 2005. There is a list of - and links to - the other articles in this series on Suite 101 on the Suite101 Articles page. The original article was used to create this page on Joy2MeU in May of 2007.
---
Codependent Defenses - Part 3 My Gatekeeper

By Robert Burney
"The hardest thing for any of us to do is to have compassion for ourselves. As children we felt responsible for the things that happened to us. We blamed ourselves for the things that were done to us and for the deprivations we suffered. There is nothing more powerful in this transformational process than being able to go back to that child who still exists within us and say, "It wasn't your fault. You didn't do anything wrong, you were just a little kid."

To be able to say "I Love you" to the child/children within us, and to the person who we are today, and really mean it on an emotional level, is one of the goals of this process."

(All quotes in this color are from Codependence: The Dance of Wounded Souls)

I saw the movie Ray yesterday - the story of Ray Charles. An excellent movie that will undoubtedly receive lots of Academy Award nominations - including for best actor. The reason I mention this, is because there was one specific point in the movie that hit me with great emotional force - that triggered some deep grief energy within me. It involved a vision that Ray had when he was struggling to kick addiction to heroin. In that scene both his deceased mother and brother appeared to him. His brother who had died in childhood with Ray watching unable to help him, said to Ray in this vision, "It wasn't your fault."

At the core of the disease of codependency is toxic shame - the feeling that something is wrong with who I am, with my being. The feeling that we are somehow unlovable and unworthy, inherently defective, is at the heart of the fear of intimacy defenses that our ego's adapted to protect our hearts in early childhood. "I am unlovable and it is my fault" - is the core lie of codependency.
"One of the hardest things for any of us to do is to learn to have compassion for our self. In childhood we felt like it was our fault that our wounded parents treated us in the way they did. We felt that any abuse, deprivation, neglect, and/or abandonment (actual or emotional) was because there was something wrong with who we were - that we were defective or bad or evil or unlovable in some way. . . . I will be continuing the discussion of emotional intimacy in my columns here in the coming months - including sharing how my fear of intimacy caused me to sabotage my latest romantic relationship which in turn led to me opening my heart in a Truly magnificent way." - Emotional Intimacy = in to me see
This months column is kind of a wrap of the series of articles focused on my fear of intimacy that I started in April of this year - although the first column I actually wrote as a direct result of the transformational relationship I have had the gift of being involved in this year was my March column.
"There are people whom we have a closer vibrational relationship to than other people - people who we can feel closer and more connected to within a few hours of meeting them than we do to people we have known our whole life. . . . . . . . There are always multiple levels of reality, of vibrational energy dynamics, involved in this human experience we are having. . . . . The Truth is that someone can feel familiar in a way that recreates our wounding with our parents / patterns - and be a soul mate also. In fact, it is inevitable that when we do meet someone who is our soul mate - or even more powerfully our twin soul - there will be Karma to settle." - Energetic Attraction - emotional familiarity or Karmic connection?
Even before I had met in person the woman who was such a magnificent catalyst for my growth this year, such an amazing teacher for me in my recovery, I felt a powerful connection to her. When I did meet her on December 16th 2003, it was what I described as "thunderbolt experience" that took my breath away. This was a feeling of connection that involved much, much more than mere physical attraction - this was Truly a Cosmic and Karmic connection of great power.

I have stated in numerous places in my writing that I believe that romantic relationships are the greatest arena for Spiritual and emotional growth available to us - because they are the ones that push all of our emotional buttons, trigger all of our deepest wounds. I have been in conscious codependency recovery for many years, but I have had relatively little experience in romantic relationships because of the relationship phobia I talked about in my May column: Fear of Intimacy - Relationship Phobia

It was because of that relationship phobia that I didn't understand my fear of intimacy defenses - had not had the opportunity to work through the layers of the defenses in an actual relationship experience - enough to be able to stop them from causing me to sabotage the relationship that began in December of last year.
"I recently had the gift of being involved in a romantic relationship that helped me to open my heart in a way that I had never before been capable of doing in this lifetime. Unfortunately, when we first got involved I was still reacting to old tapes that I hadn't yet been able to stop giving some power to. Those old tapes caused me to sabotage - and then end - the most Loving and nurturing relationship I have ever been involved in. . . . It was only after ending it that I was able to get in touch with the fact that what needed to change was me. Recognizing what I had done was the shock to my system that I needed to look at and start changing the old tapes that were blocking me from opening my heart. I was then able to open my heart to Loving myself and the other person in Truly magnificent ways." - June 2004: Emotional Intimacy - A romantic tragedy / a Spiritual Transformation
It was Truly magnificent, amazing, and awe inspiring to me, for me to open my heart to Love in a way I had never experienced in my life. To break through what I thought were the most formidable, entrenched blocks to intimacy - to opening my heart to another human being - is the single most powerful and transformational experience I have had in my life. I was Truly in awe of what I discovered about my own capacity for Love, for Loving.

That was when the truly insidious nature of my codependency really kicked in. Once I had gotten past the huge, obvious defenses to intimacy, the more subtle and deeper levels of my wounding started to cause me to behave in ways that would sabotage my ongoing relationship with her. That is, that after my fear of intimacy defenses against opening my heart to another person had caused me to sabotage and end our original relationship, then the core wounding / the toxic shame caused me - even after I had opened my heart to her - to sabotage the possibility of reconnecting with her on a romantic level.
"In this relationship, I started out in the role of counterdependent with her being the codependent - and then it switched. . . . . . My dysfunctional "destination thinking" kept me reacting from a place of thinking that if she could just open her heart in the way I had, then we could be together in a wonderful way - a version of happily-ever-after. I would fall into pushing - campaigning - for the destination I wanted which would sabotage being able to be present and enJoy what we had in the moment because it would push her into her counterdependent reaction of running away and thinking she needed to banish me from her life." - July 2004: Enjoying the Journey - a Birthday Miracle
I fell into a horrible codependent trap. I was behaving towards her in ways that were not Loving in order to try to convince her of how much I Loved her and how wonderful we could be together if she could get past her fear of intimacy.
"She however, who had been totally committed to the relationship as long as I was still somewhat emotionally unavailable, was afraid of my new capacity to Love. She hadn't opened her heart to herself yet, so she was afraid of me being available to Truly Love her in healthier ways that she had ever known - in healthier ways than I had ever been capable of. In the attempts we made to reconnect, she kept reacting to her old tapes that told her that she was not deserving of my love, that she would fail me if she gave me another chance to be in relationship with her." - June 2004 Emotional Intimacy - A romantic tragedy / a Spiritual Transformation
What I said in this quote from my June articles is the truth - she was reacting to her own fear of intimacy and betrayal issues, and to the toxic shame at the core of her relationship with her self. And I could see that in her clearly - and kept trying to help her understand. But in that June column I was still not seeing my self clearly - was not owning my responsibility in what was happening.

I was behaving in ways that gave her good reason to pull back - so that at the same time she was reacting to her wounds, she was taking care of her self by pulling back from my unhealthy behavior. I got past the gatekeeper that was guarding my heart from opening to another being, but then the gatekeeper that was guarding me from opening my heart to my self caused me to focus upon and blame her gatekeeper for keeping her unavailable to me in the ways I wanted her to be available. As I said in one place in my processing about all of this, it is like I pushed her into a corner and then in effect judged and blamed her for being in a corner.

Even though I was starting to see my part in things more clearly in July, I was still primarily blaming her gatekeeper when I wrote my August article about the Gatekeeper
"The woman I was involved with this year was a quantum leap forward in terms of my patterns. She was not mean and abusive. . . . Her patterns were similar to mine in that she was either people pleasing and being deprived and abused or running away - so the fact that she hung in there with me so long and was willing to confront issues and work through them was great. I believe that the reason she hung in there for so long is because of the powerful level of soul connection between us - a connection that her Gatekeeper puts in a great deal of energy denying . . . She has run away now - and may never come back, which is very sad to me. But I am still incredibly grateful for all that I have learned from what has been the most powerful and authentic emotionally intimate relationship I have ever had the privilege of experiencing with anyone. . . . . Writing this has given me some more insights into my gatekeeper defenses. I will explore this topic further next month." - August 2004: Codependent Defenses - Part 1 The Gatekeeper
She did react to her wounds and run away - but she was also responding to unhealthy and imbalanced behavior on my part. Underneath the gatekeeper that was guarding my heart to protect me from being hurt by others, was the toxic shame that was a deeper level of my gatekeeper - that was keeping me from opening my heart to myself on the kind of powerful and transformational levels that were in balance with the magnificent way I had opened my heart to Love another. Truly insidious and baffling and powerful is this condition of codependency.

But my codependency recovery has helped me to keep stripping away the levels of dishonesty - the rationalization and denial and justification - that the critical parent voice creates to hide the real reason I was behaving the way I was. It helped me to stop focusing so much on her and her part in things, and bring the focus back to me and my part in things - so that I could take responsibility for my side of the street and uncover the real reasons for my codependent behavior.

The real reason - the bottom line reason - was toxic shame. In next months column, I will talk about what I discovered about my gatekeeper - the power of my toxic shame - as I stripped away the layers to get more honest with myself so I could take responsibility for my part in sabotaging the possibilities presented by this relationship experience.
For more articles on Romantic relationships, see the Relationship section.