Testimonials for the "Audio Spiritual Experience"


"What she wanted to reiterate to me, was how important my tapes had been to her husband while he was dying. She had bought the tapes for him because he had a terminal illness. She told me again how important those tapes were to him, and how he had listened to them over and over again in the last months of his life. She said they were the only thing he wanted to listen to - and again expressed her gratitude to me for how much my words had helped her husband find peace and serenity while he was in the process of dying." *longer quote below


"I stumbled upon your website by chance some years ago. I ordered the book and then the tapes. I listened to the tapes so many times that your voice put me to sleep night after night after night. I wore the tapes out. Your work is remarkable and can help many people if they were aware of it."


"We've listened and loved your audio version, and now want the book to go along with it. We are both very active AA members."

"It is not unusual for me to drive 200 to 400 miles a day. Needless-to-say, I listened to your audio version in 2 days. What a wonderful experience!!!!"

"I listen to your audio version every morning and evening, as I take the NYC subways to and from work. It is helping to change my life immensely. God bless you for putting out this beautiful, so desperately-needed work."

"WOW!!! Your book and tapes arrived, and I literally can not stop listening to them, as I drive my car, and lay down to rest. It has struck as Truth with me, and just affirms all that I have come to accept as my path, in the program of Alcoholics Anonymous. I am sure you are used to receiving emails of this nature, but I would me amiss if I did not thank you for your words. They have assisted in transforming me to another level of living. I was yearning for a boost in my program, and this was it. I work with many young women and this has given me new information that I feel is most helpful, for many. Thank you for sharing."

"I received your audio version a couple of days ago, and I am remembering my Truth in listening to your words. The audio is invaluable to me."

"I am recently blessed by the high vibration and accuracy of your audio version."

"Thank you Robert. I am in receipt of your audio version. They are in alignment with my beliefs and a wonderful tool for assisting in reprogramming negative patterns. You are extremely articulate here and I will recommend your audio/book to my clients and Yoga students."


"A friend of mind shared the her audio version with me. There was so many words and ideas that resonated with me that I decided to have my own copy plus the book so I can go at my own pace to digest all the concepts that validate what I have been thinking for many years. You have a gifted way of presenting that material. Thank-you for sharing your gift with those of us who need to hear the message."



In most of these testimonials I have substituted the term audio version for CDs because I don't have the CDs available right now** - and these testimonials were actually about a "work in progress" version that was not as good a quality as the digitally remastered version that is available in the MP3 download.

Testimonials for the Intensive Workshop



"Robert is a very compassionate, intuitive, and intelligent soul who shares his insights to you in such a clear, fun, and poignant way that your life will be forever changed."

"I found this session to be very useful in seeing the what & the why of "my" reality. The understanding I have gained gives me hope in my future. This has been the greatest gift I have ever given myself."

I believe you've assembled all of the major pieces of "the puzzle of Recovery" with your work (in a way that has never been done before)."

"Robert, Your seminar on codependence was awesome. Your practical techniques for dealing with this disease are incredibly simple and incredibly effective."

"This training is not only a clear nuts and bolts approach to recovery, but likely a key insight into the next revolutionary model of recovery. I feel as if I have a much clearer map."

"Exceptionally understandable; very clear. This was LIFE Changing - I am so thankful. I would Absolutely recommend it."

"It was very empowering, uplifting and gave me new hope. The information was invaluable."

"Very insightful information that provides "working tools" for the individual. This will help accelerate the process - better, faster, more. I would definitely recommend this Training."

"Robert is a living testimony of a successful recovery and a vibrant being despite a history of co-dependency. He speaks and teaches from his heart - communicating directly with our hearts and souls, inspiring them to be vulnerable and strong at the same time."

"Robert Burney's Intensive Training Day in San Diego was the kindest thing I did for both my inner child and adult in a long long time. I needed it more than I knew and I thank my higher power for leading me to this gentle healer. I recommend the seminar with all my heart and soul. Robert is the most articulate teacher in codependency healing I have ever heard. Thank you from my soul!"

Today at Robert Burney's Intensive Seminar I got validation for some life long beliefs and values. His message gave me new hope of light, change, joy, beauty and acceptance. He answered most of my souls questions. I shall sleep good tonight. Thank you Robert from my soul - which is light years healthier today because of your gift!"

"Robert carries an amazing message of healing for the entire human race. Anyone who is ready to face their issues would benefit tremendously from this simple recipe. Thank you Robert! You made a huge impact on my recovery & my concept of a Higher Power."

"This workshop is a must for anyone seeking a happier, more satisfying and fulfilling life."

"By attending this workshop I have a clear road map to move forward."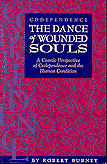 "I just read your wonderful book, thank you for writing it. I have been a spiritual teacher since childhood, however, your book let me organize my thoughts a new way, a new perspective. I now have a much deeper understanding and am still learning from it. Dance, is one of the truly transformational works of our time."

"When I found your book, I found myself."

"I am a 52 year old psychotherapist and have struggled with codependency all my life. Up until tonight I have been disappointed in the literature and treatment of codependency. Your work is brilliant! I can't find words to express my appreciation with the depth I am feeling."

"I truly believe that I have made more progress on a personal level in the few weeks I have had Robert's book and tapes than in the preceding eight plus years when I first found out what codependency was."

"Robert, you are a metaphysical Stephen Hawking. Thank you."

"The approach that I discovered in my personal recovery - and developed in my work with others - is the missing integration formula that people in recovery, on a healing / spiritual path, have been seeking for years. We can have lots of intellectual knowledge of what constitutes healthy behavior, and multiple spiritual experiences, but until we can integrate knowing / Knowing into our emotional relationship with self and life it is not possible to fundamentally change our behavior patterns - especially, and most importantly, our behavior patterns in intimate relationships.

There are many teachers, books, etc., these days that will tell you that the goal is to learn to Love your self - but no one really tells you how to do that. That is what the approach to inner healing - that I have been gifted with developing - facilitates. . . . . .

. . . . This work can empower you to not only to find inner peace / stop the war within - to learn to "be" present for your life journey today with the capacity to be happy, Joyous, and free in the moment - but is also the key to healing your fear of intimacy enough to learn how to open up to Love and be healthier in a romantic relationship." - Joy2MeU Update Newsletter March 2006