Welcome
to a page of
Joy2MeU
The Web Site of Spiritual Teacher, codependence counselor, grief therapist, author, Robert Burney and Joy to You & Me Enterprises
Go to Home Page
Site index page

Robert is the author of the Joyously inspirational book
Codependence:
The Dance of Wounded Souls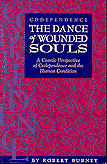 For information on how to order the book click on the book cover.
Howard Street Booksellers
115 East Howard Street
Hibbing, Minnesota
218-262-5206

Chaucer's Books
3321 State Street
Santa Barbara, California
805-682-6787

a different drummer books
513 Locust Street
Burlington, Ontario
905-639-0925

Coalesce Book Store
845 Main Street
Morro Bay, California
805-772-2880

Spirit Works
1814 Lorne Avenue
Saskatoon, Saskatchewan
306-653-7966

Books On The Square
124 Houston St.
Granbury, Texas
817-573-9672

Jean Barne's Books
2717 NW 50th St.
Oklahoma City, Oklahoma

Hill Avenue Book Company
1711 Hill Avenue
Spirit Lake, Iowa
712-336-5672

Tattered Cover Book Store
1628 18th Street
Denver, Colorado
303-322-7727

Inner Dimentions Emporium
940C Ann St.
Stroudsburg, Pennsylvania
570-421-9884

Harry W. Schwartz Bookshop
2559 Downer Ave.
Milwaukee, Wisconsin
414-332-1181

Unity Church of Santa Barbara Bookstore
227 E. Arrellaga
Santa Barbara, California
805-966-2239

Unity Church of Stockton Metaphysical Bookstore
48 West Poplar
Stockton, California
209-466-5569

Gibson's Bookstore
27 S. Main Street
Concord, New hampshire
603-224-0562

Genesis Books I
248 E 3900 South
Salt Lake City, Utah
801-268-1919

The Book Corner
940 10th Avenue
Sidney, Nebraska
308-254-4883

St. Norbert College Book Store
400 Grant Street
Depere, Wisconsin

Dartmouth Bookstore
33 South Main Street
Hanover, New Hampshire

Inner Voyage Book & Gift Shop
479 Ferry St.
Everett, Massachusetts

Miracles
69 Wheeler Avenue
Pleasantville, New York
Borders Books & Music # 143
200 Mall Boulevard
Monroeville, Pennsylvania

Borders Books & Music # 104
4745 Ashford-Dunwoody Rd
Dunwoody, Georgia
Malaprops Bookstore
55 Haywood Street
Asheville, North Carolina

Volumes of Pleasure
1016 Lost Osos Valley Road
Los Osos, California
Thackeray's Books
3301 West Central Avenue
Toledo, Ohio

Mother Kali's Books
720 E. 13th Avenue
Eugene, Oregon
Borders Books, Music, Cafe # 61
1540 Golf Road
Schaumburg, Illinois

Schuler Books & Music
2660 28th Street SE
Grand Rapids Michigan
A Vision For You
9472 Magnolia Avenue
Riverside, California

Soul Desires
1026 Jackson Street
Omaha, Nebraska
Helena Center for Creative Living 4/06
314 N. California St.
Helena, Montana

Talking Leaves....Books 7/06
3158 Main Street
Buffalo, New York
Livrenoir 8/06
10 Jay Street
Brooklyn, New York

GATS Counselling and Treatment Services
North Adelaide, Australia
2/07 Website: gatscounselling.com
93 Countries from which Joy2MeU.com has had visits in 2001: (I haven't updated this for a few years.)
Canada, Australia, United Kingdom, South Africa, New Zealand, Japan, France, Malaysia, Israel, Greece, Singapore, Taiwan, Mexico, Philippines, Netherlands, Colombia, Finland, Romania, Saudi Arabia, Sweden, Lebanon, Maldives, Germany, Iceland, Norway, Brazil, Italy, Paraguay, Belgium, Turkey, Austria, Croatia, Denmark, Kenya, Ireland, Poland, Portugal, Macedonia, Switzerland, India, Faroe Islands, Zimbabwe, Thailand, Russian Federation, Indonesia, Hong Kong, Slovenia, Hungary, United Arab Emirates, Spain, Mauritius, Cayman Islands, Jordan, Brunei Darussalam, Pakistan, Trinidad and Tobago, Peru, Botswana, Ecuador, Estonia, Argentina, Bermuda, Ghana, Uruguay, Dominica, Iran, Latvia, Egypt, Lithuania, Yugoslavia, Belize, Cyprus, Nepal, Slovak Republic, Kazakhstan, Luxembourg, Ukraine, Jamaica, Guatemala, Namibia, Samoa, Czech Republic, Oman, Paraguay, Georgia, Malta, Greenland, Costa Rica, China, Dominican Republic, Chile, Iceland, Bulgaria.