Welcome
to a page of
Joy2MeU
The Web Site of Spiritual Teacher, codependence counselor, grief therapist, author, Robert Burney and Joy to You & Me Enterprises
Go to Home Page
Site index page

Robert is the author of the Joyously inspirational book
Codependence:
The Dance of Wounded Souls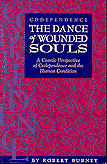 Attack on America - A Call for Higher Consciousness
by Robert Burney
Perfectly Human

. . . . . . Codependence is a self-perpetuating self-destructive hamster cage of repeating, reactive behaviors. The only way to break out of it is to start being more Loving to my self by learning how to stop reacting. In order to do that I had to learn to detach from my own internal process enough to start understanding the cause and effect relationship between my childhood experiences and my adult patterns. The concept of powerlessness helped me to create the space to start accepting myself and begin to change the programming. . . . . . We manifest Love into the world by learning to give it to ourselves by not judging our being, not giving power to the illusion that being imperfect humans is shameful.
My Recovery Process
. . . . . . What I want to emphasis here, is that yes it is vitally important to align our intellectual paradigm with Spiritual Truth and Love so that we stop generating emotional energy out of fear and shame. But changing that programming does not make the emotional energy which we generated in the past disappear. It is vital in our Spiritual Awakening process to own and release the grief from the past or it will keep us trapped in those repeating behavior patterns.

In my opinion, far too many spiritual teachers and New Age healers dismiss and discount the emotional wounds - view certain emotions as negative - and therefore are still empowering polarity and shame.

Recovery involves bringing to consciousness those beliefs and attitudes in our subconscious that are causing our dysfunctional reactions so that we can reprogram our ego defenses to allow us to live a healthy, fulfilling life instead of just surviving. So that we can own our power to make choices for ourselves about our beliefs and values instead of unconsciously reacting to the old tapes. Recovery is consciousness raising. It is en-light-en-ment - bringing the dysfunctional attitudes and beliefs out of the darkness of our subconscious into the Light of consciousness.

On an emotional level the dance of Recovery is owning and honoring the emotional wounds so that we can release the grief energy - the pain, rage, terror, and shame that is driving us.




This page is no longer available on the regular web site. To view this page, it is now necessary to pay a fee for access to the Dancing in Light section of Joy2MeU.com On this page are quotes from, and section headings of, the original article. The page with information on how to subscribe is Dancing in Light.