Welcome
to a page of
Joy2MeU
The Web Site of Spiritual Teacher, codependence counselor, grief therapist, author, Robert Burney and Joy to You & Me Enterprises
Go to Home Page
Site index page

Robert is the author of the Joyously inspirational book
Codependence:
The Dance of Wounded Souls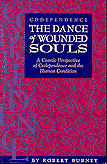 Attack on America - A Call for Higher Consciousness
by Robert Burney
Age of Atonement
Each and every one of us has an inner channel. We now have the capability to atone - which means tune into - to atone, to tune into the Higher Consciousness. To tune into the Higher vibrational emotional energies that are Joy, Light, Truth, Beauty, and Love.

We can tune into the Truth of "at ONE ness." Atone = at ONE. Atonement = at ONE ment, in a condition of ONENESS.

We now have access to the highest vibrational frequencies - we can tune into the Truth of ONENESS. By aligning with Truth we are tuning into the higher energy vibrations that reconnect us with the Truth of ONENESS.

This is the age of atonement, but it does not have anything to do with judgment and punishment. It has to do with tuning our inner channel into the right frequencies.

But our inner channel is blocked and cluttered with repressed emotional energy and dysfunctional attitudes. The more we clear our inner channel through aligning with Truth attitudinally, and releasing the repressed emotional energy through the grief process, the clearer we can tune into the music of Love and Joy, Light and Truth.

(Text in this color are quotes from Codependence: The Dance of Wounded Souls by Robert Burney)

. . . . . . My job is to show up for life today and pay attention. I learned to pay attention to what gets my attention without judging myself. The Universe uses whatever works to get my attention and to motivate me to follow where it wants me to go. The things that get my attention most effectively usually have to do with my human desires - with longings and unfulfilled needs. Which led to the second part of what I found was so important - to let go of the outcome. To let go of assuming, interpreting, fortune telling, projecting my fantasy of where I was going to end up, based upon what carrot the Universe used to get my attention. . . . . . .

being a clear channel
When I do my writing, or my counseling / therapy work, I am able to access what I think of as sacred space. . . . . . .

. . . . . . This is the age of atonement, and what we are learning to do is tune into Love and Truth. To judge and shame ourselves for where we are at in our own individual process - on our own personal path - is not Loving. It is by being Loving to ourselves through having patience and faith, through acceptance and surrendering to the Divine Plan, that we gradually clear our inner channel and tune more clearly into intuitive guidance. . . . . .

This page is no longer available on the regular web site. To view this page, it is now necessary to pay a fee for access to the Dancing in Light section of Joy2MeU.com On this page are quotes from, and section headings of, the original article. The page with information on how to subscribe is Dancing in Light.