Welcome
to a page of
Joy2MeU
The Web Site of Spiritual Teacher, codependence counselor, grief therapist, author, Robert Burney and Joy to You & Me Enterprises
Go to Home Page
Site index page

Robert is the author of the Joyously inspirational book
Codependence:
The Dance of Wounded Souls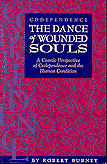 Attack on America - A Call for Higher Consciousness
by Robert Burney
So we need to stop shaming ourselves for the behaviors that we adopted to protect and nurture ourselves, at the same time that we are transitioning to behaviors that are less self-abusive.
Notice that I say less self-abusive. We are talking progress, not perfection here.
If you have an image of what completely healthy behavior is, and you will not allow yourself to accept and Love yourself until you get there, then you are setting conditions under which you decide when you will become Lovable. You are still buying into a concept of conditional love and by extension, the concept of a Higher Power that is conditionally loving. You are still trying to earn, and become worthy of not only self-Love, but also God's Love. That small child inside of you is still trying to earn your parentsí Love and validation.
That is a natural, normal thing for humans beings on this Codependent planet. Try not to judge and beat yourself up for it. Try to observe it and say, "Oh, isn't it sad that I am still doing that? I think I will try to learn some ways that I can change it."
(Text in this color are quotes from Codependence: The Dance of Wounded Souls by Robert Burney)
While I was in college I did a paper on Napoleon's wars in Spain. I ran across a sentence in a book that said something like "the French exacerbated the Spanish xenophobia." I, of course, being a person who values words, had to look up both of the long words - and then figure out ways to use them. I no longer use words to try to impress people. I focus on trying to communicate as clearly as possible. So, I was kind of amused when I watched myself use exacerbate several times in part 4 of this web opus. I used it because it was such a perfect word for what I was trying to convey.
Exacerbate means to greatly increase, severely aggravate, irritate - which in recovery language I would translate as: triggering, or pushing buttons, or gouging old wounds, in particularly powerful ways.
Xenophobia is dislike or hatred of strangers or foreigners - which of course is caused by fear of differences, fear of that which is unknown, not understood.
The two words are linked together forever in my mind because of the sentence in which I discovered them. That is another reason why my use of exacerbate was so perfect, because part of the stimulus for me to start writing this piece was the Xenophobia I was seeing in the initial emotional reaction of Americans. . . . .

This page is no longer available on the regular web site. To view this page, it is now necessary to pay a fee for access to the Dancing in Light section of Joy2MeU.com On this page are quotes from, and section headings of, the original article. The page with information on how to subscribe is Dancing in Light.