Welcome
to a page of
Joy2MeU
The Web Site of Spiritual Teacher, codependence counselor, grief therapist, author, Robert Burney and Joy to You & Me Enterprises

Go to Home Page
Site index page

Robert is the author of the Joyously inspirational book
Codependence:
The Dance of Wounded Souls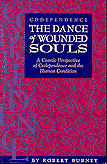 Included on this page are quotes from both Codependence: The Dance of Wounded Souls and from other copyrighted work by Robert Burney. Online pages quoted within this chapter will be linked so that they open in a separate browser window - with the exception of any web articles referenced which are quite long, or for some other reason not conducive to internal linking. Links will be provided at the bottom of this page to any such web pages.

---

This is Chapter 10 of a book being published online as it is written. To find out more about the genesis of this work you can go to Codependency Recovery: Wounded Souls Dancing in the Light Book 2: A Dysfunctional Relationship with Life: Author's Foreword

---
Codependency Recovery: Wounded Souls Dancing in the Light
Book 2: A Dysfunctional Relationship with Life
Chapter 10: Normal Families are Dysfunctional
By Robert Burney
In chapter 8, when talking about aging parents, I used examples that were about situations where a single parent was alive. This can certainly increase the magnitude of the focus of the parents manipulation on their children - and the degree of desperation the parent is feeling compelled to act out of. That doesn't mean that abuse and manipulation don't go on when both parents are still alive. What is normal codependent behavior in this situation is for one parent to be abusive and manipulative, and claim they are doing it for the sake of the other parent.
Normal kind of messages in these situations are: "Can't you see this is killing your father." "Why do you insist on breaking your mother's heart." These are the kind of messages that codependent parents will use to try to stop a child of theirs from having healthy boundaries, saying no, speaking their Truth, being a healthy independent adult.
The codependent parent will not take responsibility for, or be honest about, their own feelings - they will maintain they are doing it for their spouse. They are victims being forced to abuse and attempt to manipulate you because you are not behaving "correctly", are not doing the "right" things - i.e. not doing what they want you to do, not being who they want you to be so that they can feel good about themselves. They do not know how to separate their self worth from their emotional relationship with you, or from their ego's image of themselves as parents.
The irony and paradox of this is that a person in a relationship, who has been abusing their spouse for years, sometimes reacts with outrage when someone else appears to be abusing their spouse in the same manner they do. In other words, a parent who has been treating their spouse abusively and disrespectfully for decades will chastise a son or daughter for being "disrespectful" of the other parent. This happens not because someone they love is being abused (although there are levels of this involved in their motivation - nothing is black and white, there is some caring involved), but primarily because they see it as an assault on their ego image, as demeaning of their worth. The "I can treat my family like dirt, but you better not say anything bad about them because that is showing disrespect to me" kind of behavior. . . . . .




This page is no longer available on the regular web site. To view this page, it is now necessary to pay a fee for access to the Dancing in Light section of Joy2MeU.com On this page are quotes from, and section headings of, the original article. The page with information on how to subscribe is Dancing in Light.