Welcome
to a page of
Joy2MeU
The Web Site of Spiritual Teacher, codependence counselor, grief therapist, author, Robert Burney and Joy to You & Me Enterprises

Go to Home Page
Site index page

Robert is the author of the Joyously inspirational book
Codependence:
The Dance of Wounded Souls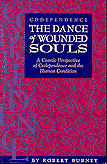 Included on this page are quotes from both Codependence: The Dance of Wounded Souls and from other copyrighted work by Robert Burney. Online pages quoted within this chapter will be linked so that they open in a separate browser window - with the exception of any web articles referenced which are quite long, or for some other reason not conducive to internal linking. Links will be provided at the bottom of this page to any such web pages.

---

This is Chapter 13 of a book being published online as it is written. To find out more about the genesis of this work you can go to Codependency Recovery: Wounded Souls Dancing in the Light Book 2: A Dysfunctional Relationship with Life: Author's Foreword

---
Codependency Recovery: Wounded Souls Dancing in the Light
Book 2: A Dysfunctional Relationship with Life
Chapter 13: Changing the Music: Love instead of fear and shame
By Robert Burney
When I was working on these two chapters focused on codependency and the New Age Movement, I got an e-mail from someone who had recently ordered my book that said the following:
"Dance, Dance, wherever you may be. That's what the Lord of the Dance said He. Dance, Dance, wherever you may be and I'll be with you in the Dance said He."

The trick is to change the music! I got it! The trick is to get free, so you can dance to a different music. The freer you get the more you hear, or should I say feel or see the music. You did a great job - Thanks

"The dance of life for humans has been grounded in shame and fear, empowered by belief in separation, lack, and scarcity. These are lower vibrational emotions and beliefs based on the three dimensional illusion that humans experience as reality. As long as the dance of humans harmonizes to music - vibrational emanations - that are rooted in shame, fear, and separation the only way to do the dance is destructively."

"It is on the Spiritual Plane that the highest vibrational frequency range naturally available to human experience is generated (by the Souls). This frequency range is the transcendent Emotional energy of Love. This Love frequency range also contains frequencies which are experienced as Truth, Joy, Beauty, and Light as well as sometimes being called; the God within, the Goddess within, the Christ within, The Holy Spirit, etc."
The later two quotes are from my page: The True Nature of Love - part 3, Love as a Vibrational Frequency. The second one in a different color because it is a quote from my Trilogy that I used on that page. I believe that the first part of the person's e-mail - up to "I'll be with you in the Dance said He." - is from a song called Lord of the Dance.

What is important about this e-mail I received is that the person did "get it." We need to change the music we are dancing to - and in order to do that we need to change the subconscious intellectual paradigm that is dictating our emotional reactions. And we cannot do that without doing the deep emotional healing. . . . . .

. . . . . We have been dancing through life in disharmony and imbalance - in dis-ease. It is by clearing up our relationship with our own internal process - so that we can change our core relationship with self and life - that we can start to dance with some balance and harmony to the music of the ultimate Truth of Love and Joy.

This page is no longer available on the regular web site. To view this page, it is now necessary to pay a fee for access to the Dancing in Light section of Joy2MeU.com On this page are quotes from, and section headings of, the original article. The page with information on how to subscribe is Dancing in Light.