Welcome
to a page of
Joy2MeU
The Web Site of Spiritual Teacher, codependence counselor, grief therapist, author, Robert Burney and Joy to You & Me Enterprises
Go to Home Page
Site index page

Robert is the author of the Joyously inspirational book
Codependence:
The Dance of Wounded Souls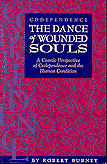 Attack on America - A Call for Higher Consciousness
by Robert Burney
---
The United States of America
There is nothing wrong with feeling proud to be an American. The United States is a great country. It is a great place to live.

The United States is also the most important country in the history of the world in relationship to the Spiritual Growth Process and the New Age that has dawned in human consciousness - in my belief. It was a fertile spawning ground for the freedom to break out of old paradigms and increase access to Spiritual Truth. The Declaration of Independence was the work of a mystic. The Constitution of the United States of America was the Divinely Inspired work that played an important role in creating the space for the Age of Healing and Joy to manifest in human consciousness.

Americans have a right to be proud of their country - and not only the right, but the duty to defend it.

What I feel sad and scared about, is that I am seeing way too much of the "Love it or leave it" kind of patriotism out there right now. The kind of us vs them mentality that is all too common in human history - that is a dynamic in every war that has ever been fought in the history of mankind. This kind of polarized reaction dehumanizes and demonizes "them" with a sweeping generality that includes many people innocent of any involvement - that spawns attacks on mosques and innocent Arab-Americans. On a practical level this is very dysfunctional because it can polarize those who are included in the generality into siding with "them." On a Spiritual level it is the kind of dehumanization that is necessary for any racism, hatred, prejudice and capacity to commit violent acts - and seeing others as less than human debases and wounds both us and them. . . . . .
Us vs them
. . . . . . . The dynamic that is happening in this country is a very codependent one. Just as in a family, where a child who is being abused will stand up in defense of the abusive parent to someone outside the family, or a relationship in which a person is very unhappy but will still defend their spouse against a parents criticism - so too do we come to the defense of our country. We feel like some level of our self worth is threatened by criticism of our family or state or country - so we ride to the defense against "them" - the outsiders.

This also is not a black and white issue. Our reaction is not just codependent. Caring for other people is not codependent. This disease is so insidious because of the black and white thinking. So many times I have heard people in codependence recovery judge themselves and beat themselves up for "being codependent." I have said probably a thousand times, "It is not all codependent, some of your reasons are because you care." Life is always gray, there are always multiple levels involved. Perhaps some of those levels are codependent - but others are caring, are coming from our heart.

There Truly is a lot of wonderful connection going on between human beings out there right now - not just in this country but around the world - that is a beautiful thing. Now if we can just get past some of our denial and see what is happening with a little clearer vision, we have a chance to do some major healing here.

It is possible to be proud to be an American and still not buy into us vs them thinking.




This page is no longer available on the regular web site. To view this page, it is now necessary to pay a fee for access to the Dancing in Light section of Joy2MeU.com On this page are quotes from, and section headings of, the original article. The page with information on how to subscribe is Dancing in Light.